It's time for another news roundup. Remember you can catch the preservation news as it breaks in our Twitter sidebar to the right. =====>>
A story from January that slipped by us was the demolition, by Entergy, of their Delta Steam Electric Station located in Cleveland.  According to the company's press release, the station was built in 1954 and contained two generating units, each capable of producing 112 megawatts of electricity.  I believe this is an era of power plants that we will be seeing more demolitions of in the coming years.
http://www.entergynewsroom.com/latest-news/entergy-mississippi-implodes-remainder-retired-delta-power-plant
From Greenville, Blake Wintory brings us a story about the Washington County Courthouse and the building's mysterious, long gone, belfry.
http://lakeport.astate.edu/2018/02/28/washington-county-courthouses-mysterious-belfry/
From Mound Bayou there is the word that residents of the area are pursuing legal action to keep their local high school open, along with the middle school in Shelby.  In January, the North Bolivar Consolidated School District board voted 3-2 to close John F. Kennedy Memorial High School in Mound Bayou and the former Shelby High School, which is now the middle school in Shelby.
The current middle school in Shelby was built as the town's high school.  It was designed in 1949-1950 by R.W. Naef.  It is on an extensive campus that includes a gym and vocational buildings designed by Town & Overstreet in 1939.
I was able to find less info about John F. Kennedy Memorial High School.  The MDAH HRI database does not have an entry for the building, but the school was extant by 1964.
https://mississippitoday.org/2018/03/01/mound-bayou-residents-pursue-legal-action-as-n-bolivar-moves-forward-with-school-consolidations/
News from Hattiesburg is that the city has acquired the abandoned Mt. Olive cemetery through eminent domain.
https://www.usnews.com/news/best-states/mississippi/articles/2018-03-01/mississippi-city-acquires-historic-abandoned-cemetery
http://www.wdam.com/clip/14163599/city-of-hattiesburg-new-owner-of-historic-mt-olive-cemetery
Another cemetery in the news, this time from Natchez, encouraging residents to help keep City Cemetery clean.
https://www.natchezdemocrat.com/2018/02/25/time-for-spring-cleaning-at-cemetery/
Two stories this week from Bay St. Louis.  The first story is about a chain coffee shop that wanted to build a location on a property on the corners of Main and Second streets.  Apparently, they didn't read their deed close enough because the properties have easements held by MDAH after they received Hurricane Katrina preservation grants. As I understand it, the owners will have to comply with a process similar to the Mississippi Landmark permit process.  MDAH is working with the owners to get the paperwork submitted and to ensure the public's investment in these historic properties is protected.
http://www.sunherald.com/news/local/counties/hancock-county/article202628924.html
https://www.seacoastecho.com/news/mdah-asks-bay-to-issue-temporary-stop-work-order-on/article_31924714-1cd0-11e8-8027-c387bad9c3b6.html
The same developer has purchased the historic A&G theater just a few blocks away.  The building has long been empty, since before Hurricane Katrina.  The plans are to turn it into an event venue.  The Tulane SEAA has the original plans for the theater, along with several other proposed designs by architect William T. Nolan
http://www.wlox.com/story/37605315/historic-bay-st-louis-theatre-to-be-renovated
http://www.sunherald.com/news/business/article202375464.html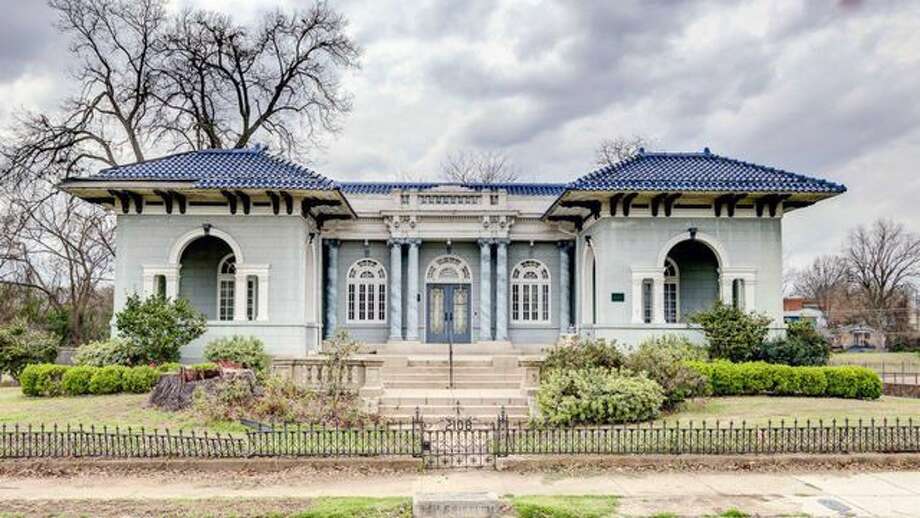 In a story that was picked up nationally, from New Haven, Conn. to San Francisco, Cal. the Fischel-Feld House in Vicksburg, is still for sale.  Misspres reported on the house coming onto the market in a news roundup last May.  Maybe this national attention will match the house with the right buyer?
https://www.nhregister.com/realestate/article/Grab-a-Historic-Mississippi-House-for-an-Absolute-12710461.php
https://www.sfgate.com/realestate/article/Grab-a-Historic-Mississippi-House-for-an-Absolute-12710461.php
In statewide news, MDAH has announced that Mark Keenum, president of Mississippi State University, has been elected to the board of trustees of the Mississippi Department of Archives and History.  Keenum succeeds board member Jack Garner, who retired after 19 years on the board as the senior member. During his tenure, Garner served as the vice-president of the board and as a member of the National Register Review Board.
http://www.mdah.ms.gov/new/news/keenum-elected-to-mdah-board/
I probably missed a story or two.  If you know of any preservation-related news items not mentioned, or if you have more information about a story above please let us know in the comments below.
---
---
Categories: African American History, Architectural Research, Bay St. Louis, Cemeteries, Cleveland, Courthouses, Demolition/Abandonment, Greenville, Hattiesburg, MDAH, Mississippi Landmarks, Mound Bayou, MS Dept. of Archives and History, Natchez, News Roundups, Schools, Theaters